Our company @Birkislogo has been operating in the sewing hardware market since 2003. We proudly declare that we produce products at our own enterprise. We offer high-quality products at competitive prices.
If you have your own business, paper labels are needed to recognize your brand.Such labels help you stand out from competition. Cardboard Labels simplify work, for example, by making it easier to find the size or model of your product.
Cardboard Labels are a great way to label your products. They are perfect for clothing, other things like bags and boxes, or any other products that you need to label. You can create your own design for the cardboard label or use one of our templates with your logo or other text. If you want to create your brand designs, our qualified specialists will help in creating the layout. Our designers will help you create a composition with your brand logo. Send us your idea and we will help you to realize it.
Cardboard Labels are a great way to create an inexpensive, yet professional-looking product. These labels are durable and don't require any special equipment to produce, so they're great for small businesses with limited budgets. Custom Сardboard Hang Labels are the perfect way to add a personal touch to your company's product packaging.
You can order Paper Label for clothing:
Logo Printing
Logo Embossing
UV varnish on the logo
Logo varnish.
You can calculate your order using the link "online calculator" or send a request to the messenger in the profile. You can leave a request and we will contact you within 10 minutes and answer all your questions.
You can buy from us under the order: thermal transfer labels and custom woven tags.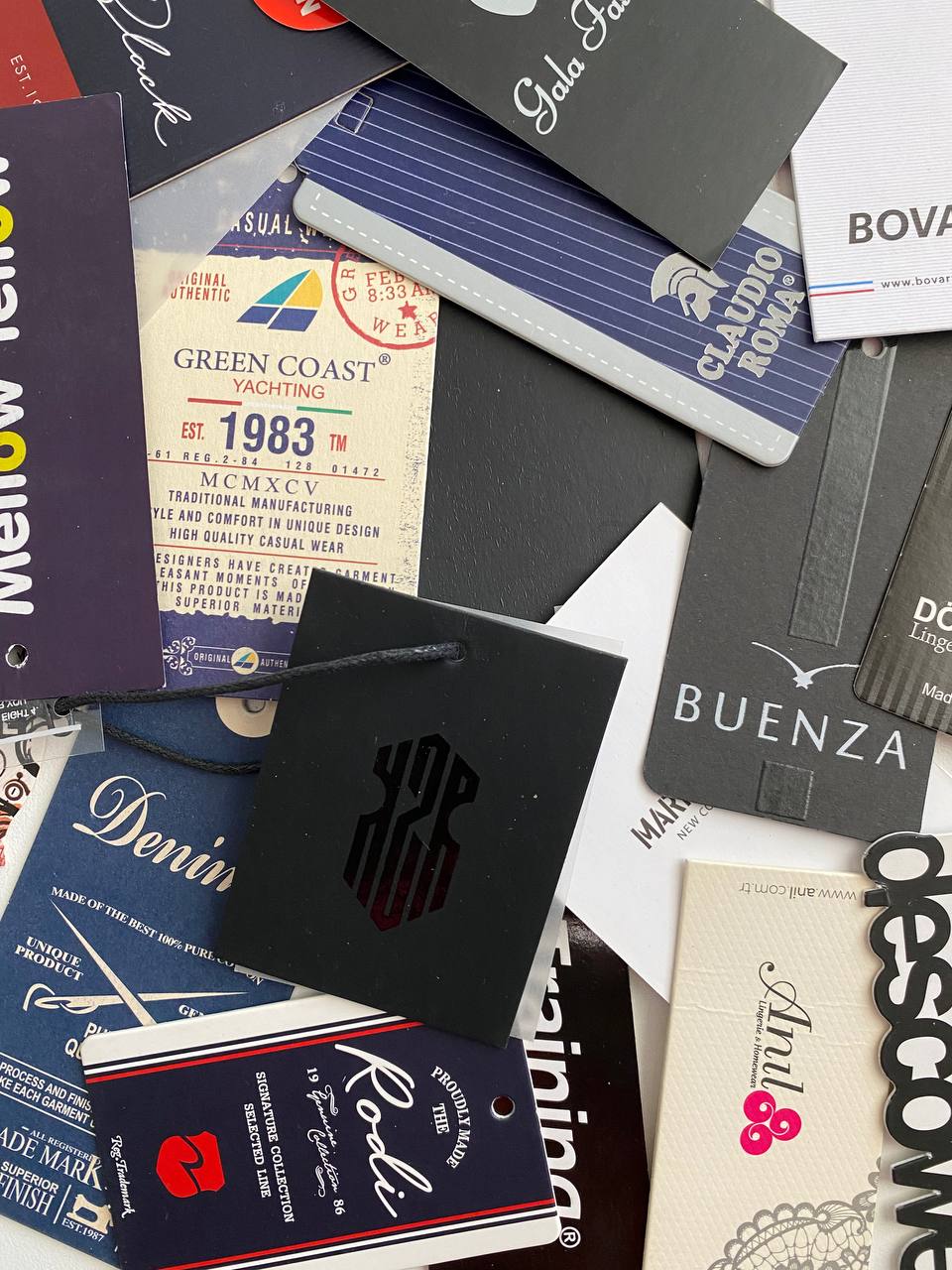 Cardboard Hang Tags with your logo
Our designers will help you create a unique style of your branding. Your company will stand out 100 percent from competitors.You will add your stylish branding to any product with Cardboard Tags with string.
Paper labels you can use as price tags, care instructions for things, for children's clothing, women's clothing, men's clothing, sportswear, bags and many other things. Paper labels are very easy to attach and do not require additional tools.
You can choose the appropriate color palette for your product, you can also choose individual sizes and shapes. The minimum order for this type of Hang Tag is 100 pieces. For accurate calculation of your order, use the section to calculate your order.
Finish