Our company Birkislogo offers the service of fabrication of tapes with your logo. We proudly declare that we produce products at our own enterprise. And what's more, we have been on the market since 2003, so we are more than perfecting the art of printing to order. We offer high-quality products at competitive prices.
Nylon labels are most commonly used in the clothing industry. They can be used for a variety of purposes such as sewing on clothes with a sewing machine, labeling clothes or packages, identifying the fabric content of clothing, identifying the size, color, or any other information, and storing clothes.
Custom Nylon Labels are not just for clothes, they can be used for anything that needs to be labeled. They can be sewn on sheets, curtains, and more. Nylon cloth Tags are usually made from nylon cloth and can be sewn onto the clothes by using a sewing machine.
They have a long shelf life, so can be stored without any problems for several years, making them one of the most effective textile labels on the market today. Nylon Labels are textile labels for sewing that are the perfect way to add individuality to your company's products.
Nylon labels do not get dirty, paint is not erased, and do not shed, even if sewn into the seam of the product, where are constantly in contact with the skin. These labels are also not afraid of pressing and ironing. Besides, they perfectly keep in shape and dry quickly.
Nylon labels with the logo are most often used to refer to the symbols for the care of clothes. Minimum order of 100 pieces or you can order clothing nylon label rolls.
You can calculate your order
Also on our website you can choose hang tags with string and tape silicone.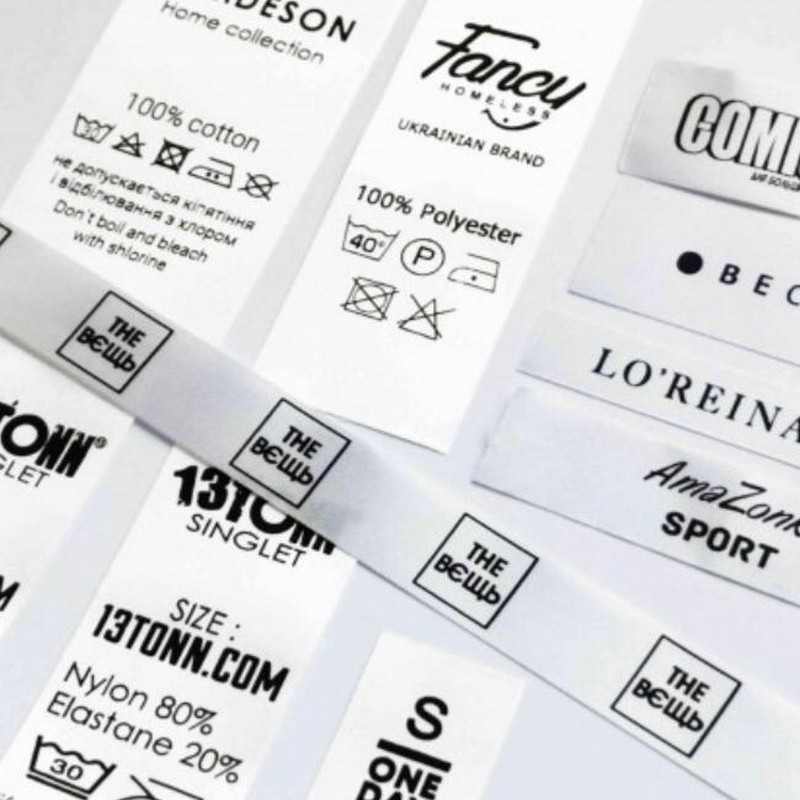 Custom Nylon Labels with a logo
This is the most popular label used in the sewing industry. Nylon Labels with a logo do not lose their appearance for a long time and are an eco-friendly type of marking products. These labels use in tailoring, women's clothing, sportswear, and many other things.
Our own production allows us to complete the order for a minimum price and in a short time. We are supplying a wide range of quality products with efficient pricing.
Nylon Tags are an analog of Satin Label but from a cheaper material. This material is similar to both oilcloth and paper but is smooth and durable. Very popular for printing size ribbons and clothing care symbols.
Our qualified designers will help you integrate text or logo design with your brand's artwork. This will help you make your unique style and stand out among the competitors. For accurate calculation of your order, use the section to calculate your order.
Finish